If you have natural hair, then you know that breakage can be a major issue, especially at the crown.
In this article, we will discuss the causes of hair crown breakage and provide solutions to help you stop it from happening.
We'll also cover some tips for preventing hair breakage altogether.
Whether you're dealing with this issue currently or just want to know how to prevent damaged hair, read on for helpful information!
Hair breaking at the crown
You know the feeling.
That sinking sensation you get when you touch the crown of your head and realize that it 's just not as thick as it used to be.
Or that sense of dread when you see those short, broken hairs staring back at you.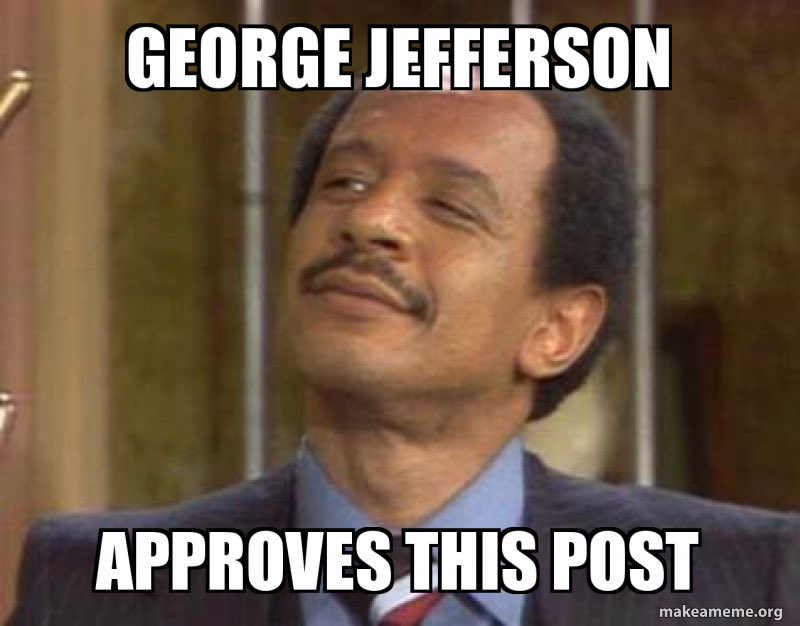 You get flashbacks of George Jefferson, with his natural sunroof, and curse the day you ever cackled at the jokes about his hair.
Natural hair breakage at the crown occurs more often than you may realize
Crown hair breakage is surprisingly common among women with coily hair. It's one of the most common hair complaints that coily naturals have.
Dr. Kesha Buster MD and Anna Levin BA break this down in their article, Trichorrhexis Nodosa (Hair Breakage) in Skin of Color Society:
"Even in its natural state, African hair is more vulnerable to breakage. The curlier the hair, the more it is susceptible.It also has a tendency to form knots naturally, and when the knotted hair is combed, hair breakage can occur."

(Source: https://skinofcolorsociety.org/patient-dermatology-education/trichorrhexis-nodosa-hair-breakage/)
We're already at a disadvantage and our chances of experiencing hair crown breakage is higher.
Especially 4c hair crown breakage.
But what really causes it? Let's do a deeper dive and find out.
A common cause of crown hair breaking is excessive heat from styling tools
Constantly using flat irons, curling irons, or hair dryers on high heat settings, make it more likely to experience breakage at the crown.
Why is the hair on my crown short?
But there is another tool that may be just as damaging.
I started noticing my hair was thinning and breaking at the crown and it baffled me.
I took good care of my hair. Tried to eat right, exercise. You know, all the things you're supposed to do to be healthy (and have good hair health).
I moisturized regularly. Did weekly scalp massages to increase blood flow. Avoided excessive sun exposure.
Yada, Yada, Yada.
But I started noticing that hair at the area of my crown, and towards the front of my head, was short.
Broken off short.
I racked my brain trying to figure it out and, it took me a week or two, but it It finally dawned on me that what culprit was.
My hair steamer!
When sitting under my steamer, the crown of my head would get extra hot
I didn't realize it, but I'd been sitting with the hood of the steamer too far down on my head.
Just frying my poor crown hairs to oblivion.
Once I realized it, I took a break from my beloved steamer and my hair started growing back.
If you use hooded steamers like mine, be sure not to pull it down too far on your head to avoid the heat to concentrate on your crown.
Blow drying hair on high heat can lead to hair breakage
Limit heat styling to once a week or every other week and air dry whenever possible.
Try not to use heat styling tools too often as this can further dry out your hair and lead to breakage.
If you must use heat, use a good heat protectant and keep the temperature on low or medium.
Repeated Tension
Ponytails, buns, braids, and other tight hairstyles are

common causes of hair breakage

If worn too tightly or for extended periods of time, these styles can cause plain old tension, straining on hair follicles.

This is especially true with high ponytails and/or elastic bands that pull hair up around the crown.

If you wear your hair in tight styles often, give your hair a break every now and then to prevent breakage.

Braided styles should be taken down after 6-8 weeks and removed immediately if they are pulling and causing pain.
Wearing wigs with combs in the crown can also cause your strands to say adios.
Repeated tension from wig or ponytail combs can create problem areas that could lead to hair loss.
Rotate wigs or swap out for comb-less units to minimize the constant tension instead.
This goes for clip-in extensions too. Incorrectly applying clip-in combs may lead to tension alopecia in your crown.
Lastly, use a wide tooth comb or your fingers to minimize tugging and pulling on wet hair which can lead to even more breakage.
Start at the bottom and work your way up, being careful not to yank or pull on any knots or tangles.
Insufficient Moisture
Another reason for hair breakage is lack of moisture
When your hair is dry, it becomes brittle and more susceptible to breaking.
This is why it's so important to keep your hair hydrated by using deep and leave-in conditioners.
This is also another reason to avoid using heat styling tools as much as possible, since they can further dry out your strands.
Natural hair requires lots of moisturizing. Like, our hair never seems to get enough moisture.
But this is especially true with the hair at the crown.
Typically, our hair is drier, coarser and and more weak at the crown when compared to other sections of our head.
Couple that with the already higher need for moisture, and it's no surprise that the hair at the crown is just ready to abandon ship in search of moist pastures.
Some ways to keep your hair hydrated include using deep and leave-in conditioners and applying water to the area frequently .
Everyone's hair moisture needs are going to be different, but it probably won't hurt to apply a light spritz every day to be on the safe side.
Crown hair can also be one of the first places that will suffer if your strands need protein.
This can be especially true if you're a natural that likes to use heat on your hair regularly.
High or frequent heat from blow drying or flat irons alter the hair's keratin bonds, causing it to be weaker and to lose elasticity.
And we already know that heat dries out the hair, so it just makes a bad situation worse.
This can cause the hair to be more porous because the protective cuticle layer becomes damaged or removed, resulting in the inner cortex of the hair becoming exposed, leading to brittle, damaged strands.
To combat this, you need to ramp up your moisture levels and maybe even add protein treatments to promote hair growth at the crown and stop breaking in its tracks.
Scalp massages with a light oil, like Jojoba, may also help to improve circulation to the area and stimulate hair follicles for growth.
I have a routine of dry brushing my hair and crown with a soft bristle brush whenever I oil my scalp.
It's like a scalp massage on 10 and is also very relaxing.
This can also work if you have thinning at the hairline or edges.
Use a light hand, however, as you can do damage by clogging follicles with too much oil or brushing too hard.
Your products
Hair products can also be a contributing factor to breaking at the crown
Many products, especially hair serums, can actually cause your hair to become overloaded and lead to build-up.
Build-up can prevent moisture and oil from penetrating the hair shaft, leading to dryness and making your natural hair more susceptible to breakage.
When you do use products, be sure to apply them sparingly and evenly throughout your strands.
Also, make sure you're using a clarifying shampoo at least once a week to remove product buildup on your scalp or hair.
Applying products to your hair like your slathering a turkey with oil on Thanksgiving is a NO!
Make it a point to read the directions on your product labels and follow them.
Our hair at the crown is delicate and loading it down with excess styling products, scalp oils, and even protein, can slow hair growth and lead to breaking.
A little goes a long way to achieve healthy hair growth. Fight the urge to treat damaged or thinning hair with product overuse.
Style your coils with as little product as possible and always start in smaller sections to avoid overdoing it.
Products with alcohol or harsh detergents are just not good for natural hair, so skip those whenever possible.
(Koily Naturals offers a line of natural handmade hair care products specially formulated for type 4 kinks and coils)
Deeper Than Hair
Medical conditions may be at the root (no pun intended) of your crown hair woes
Crown breakage can be attributed to a number of health issues like:
Alopecia Areata

Psoriasis

Lupus

Thyroid disorders

Some cancers

Anorexia and/or Bulimia

PCOS
You may need to visit your doctor or a dermatologist to determine if your problem requires medical diagnosis and/or treatment.
A blood test can check for deficiencies like Anemia or thyroid disorders while a scalp biopsy may be necessary to rule out other issues like Psoriasis, Alopecia Areata, and even cancer.
See a doctor without delay if you suspect an underlying health issue is to blame for your hair loss.
Wrapping It Up
Crown breakage is one of the most frustrating hair issues we face but it doesn't have to be a permanent problem.
Identifying the cause of your hair breaking is key to fixing the issue and getting on track to achieving healthy hair growth.
Breakage can be due to low moisture levels, product build-up, heat damage, and/or tension, but it can also signal a more serious health issue.
Use products sparingly and as directed and avoid over-manipulation.
Try increasing moisture levels and try protein treatments.
A healthy diet, plenty of water, and exercise all play a part in promoting hair growth and health from the inside out!
Do you have any tips for preventing or repairing crown hair breakage? I'd love to hear from you in the comments below!
Until next time!
Your fave Kurlie Gurlie,